Welcome to the Love Wiki
This community was created by the fans, for the fans, and is dedicated to housing a useful and informative database for all subject matter related to the Netflix original series Love.

The first 10-episode season came out on Netflix February 19, 2016. The second, a 12-episode second season, premiered on March 10, 2017. On December 15, 2017, Netflix renewed the series for a third and final season one month prior to the second-season premiere, it premiered on March 9, 2018.
For more information about how you can get started here, please check the "
Helping Out
" section below. Thanks for stopping by!
About Netflix's Love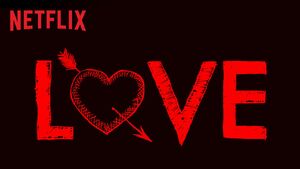 Judd Apatow, Paul Rust and Lesley Arfin are bringing an unflinching, hilarious, and excruciatingly honest take on modern relationships to Love ... Love follows
Gus
(Paul Rust from 'I Love You, Beth Cooper' and 'Inglourious Basterds') and
Mickey
(Gillian Jacobs) as they navigate the exhilarations and humiliations of intimacy, commitment, and other things they were hoping to avoid.
The Characters
Featured Videos